Or is it three strikes and your out? We'll soon find out, because before I left for vacation I joined . . .


Where are my fun Socktoberfest socks, you ask?? Everyone else is posting socks right and left?? Ah well, therein lies the problem.
I cast on for my very first ever sock (which was also my very first time ever knitting on DPN) on the second day of the cruise. It was going okay . . . until I started dropping stitches. I was able to salvage a few drops . . . but then it just got too out of control. FROG!!!!
On my second attempt, I decided to knit using four DPN instead of five. I figure I can switch to five when it comes time to turn the heel. I still think that will work. But what I did wrong on that attempt . . . which was a really stupid mistake . . . . I began knitting with my stitches TWISTED!!! I know . . . I know . . . . every tutorial I've ever read tells you over and over how important it is to make sure your stitches are not twisted. I don't know why I didn't check. So . . . FROG!!!!
A few nights ago I realized that everyone is posting finished socks, and I didn't even have a set on the needles. I fear I may be kicked out of Socktoberfest. So once again, I cast on. And this is what I have . . .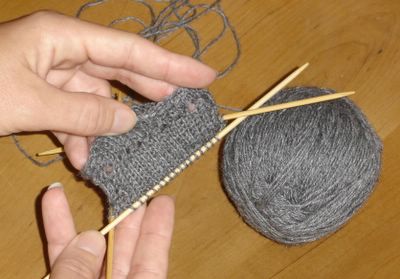 So far, so good. I'm using Knit Picks Essential in Ash. The pattern a is a Lion Brand Family Socks sheet that I picked up free in AC Moore ages ago. It has a picot-edged hem (which I'm doing) and garter check pattern (which I'm not doing - I'm just doing stockinette stitch to get the hang of DPN knitting and also because I wanted plain socks). I'm a bit concerned that I misjudged my gauge and am knitting them too small . . . . but I think I'll continue on and see. I tried them on as best I can with my pathetic little inch and a half knit, and I think they'll fit. If they come out small, I'll give them away.
Can I get them done by the end of October?? We'll have to wait and see. I sure will try!!