Okay now, I'm sure you guys have noticed and have been far to kind to comment. But lately, aside from the sad attempt at Socktoberfest socks, there has been a blatant lack of knitting content on this knitting blog. You're right, you're right. It's time to make amends.

It's not that I am adverse to showing my WIP's. It's just that I haven't been knitting all that much. Work is really bad . . . really really bad . . . and it saps the last bits of life right out of me. I go home, curl up in the fetal position on the couch, and rot what's left of my brain with TV.

Don't worry, the knitting siren song is still calling out to me. I do still knit every day, but not for as long as I would like, and my progress is vvveeeeerrrrrrryyyyyyy ssssslllllllooooooooowwwwwwwww.

But enough with the excuses - here's what I have. I've been knitting faithfully (albeit slowly) on my little sock.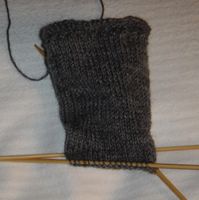 I guess I'm about 4 inches along, and the heel flap starts at 6, so I'm psyching myself up for that. I have artfully posed it to hid the
two holes
in the leg - the picture came out blurry but if you look closely toward the center left you'll see one of them. I think I know (three inches later) what I did wrong, but I'm okay with leaving them there. They are small and who is really going to see them, right? I'm noticing I'm having a very hard time holding the tension on my yarn. Is that normal when learning to knit on DPN's? Or is it because the yarn is so thin? Do you hold your yarn a different way when you knit socks? I use one of the methods shown in
Stitch 'n Bitch
where you kind of weave the yarn through your first three fingers and loop it around your pinky.
I also finished the
main body
of Tie One On while cruising, and got a good start on one tie.
Haven't touched it since I disembarked from the ship, but it's next in line when the sock is done.
And sad but true, that's it. Baby Raglan is STILL NOT BLOCKED . . . I don't know what I'm waiting for. I've got to finish it soon or the baby will be too big to wear it. I vow to get all my cleaning and chores done Saturday, and devote my whole Sunday to knitting stuff. (Yeah, easy to say now . . . we'll see what happens Saturday when I have to clean the whole house in a day. I'll try to be strong though, for the sake of the knitting.)