I'm back!!! Friday my laptop suddenly decided it could no longer connect to the Internet, so I was a bit side-lined for the past few days. I'm pretty good at figuring things out on the computer. I'm terrible about figuring out what to do when the computer decides to stop working. Thank goodness for Sweetpea. As it turned out, a network cable had come loose from the router. Plug the cable back in, problem solved.

Everyone has been posting their Olympic Progress. I know it's not a race, but wait until you see how little progress I have!!! (Yes, I'm in my flannel jammies!!)


I'm okay with this though. It's very slow going, because it's my first time knitting on two circulars and it will take me a while to get the technique down and pick up a rhythm. I'm also slowly learning how to handle the two yarn balls without having to stop every few rows to untangle them. Truthfully, if this wasn't my Olympic Challenge, I would have ditched the two at once socks somewhere around row 5. I'd be doing One Sock, Toe-Up, on Two Circs right now. But, it's my Olympic Challenge, so I will persevere. It's actually a good thing to push myself, because I am managing to do this without taking the easy way out.

For some reason, I decided I didn't want to cast on until I saw the flame lighting on the Opening Ceremonies broadcast. What I failed to realize was that the flame lighting would not air until 11:30 pm EST, at which point I would have fallen asleep numerous times and be up for nothing more than a crawl into bed. I decided casting on yesterday would be great too, because that was the official first day of Olympic competition!!

We are supposed to go to a friends house for a dinner party tonight with a nice group of people we've met at ballroom dancing. But it looks like we'll be snow-bound for the rest of the day. The blizzard has hit hard today, and it shows no sign of slowing down any time soon. According to the weather reports, this should keep up for the next four to six hours. I ventured as far as the front porch for some action shots!!!


It's a blizzard!!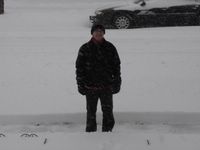 Pea, in his hand-knit hat, added for scale!!


Looks like we're getting new next door neighbors . . . the top sign says Sale Pending under the snow!!


Snow drift on the front porch.

We're very thankful that my uncle gave Pea his old snowblower!!! It looks like we're going to need it.