That's right, plenty of good stuff today. And actual knitting content!!!

The FO I've got today is my Mystery Socks. The pattern I used was Texture and Lace Socks. However, these socks will need to remain a mystery for just a little longer. They are done. I'm wearing them now. But I can't get a good picture on my own, so I'll have to add one tonight when Pea can take a picture for me. Don't let your anticipation build up too much, I'm really not thrilled with the pair. But it was a lot of fun to take a pattern without a picture and see what knits up. I would certainly do it again. ETA: Here are the Mystery Sock photos I promised.


I'm just not crazy about the pattern. I do like lacy socks, but maybe not in worsted gauge. The YO's are too big. And I don't think variegated yarn was the best choice for this pattern. But that's why they were "Mystery Socks". It was a fun experience!!
Now, on to what I can actually show you. One of my first banner clients, the lovely
Nancy
, sent this beautiful red Tahki Cotton Classic.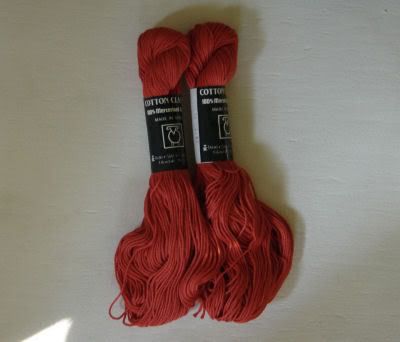 Okay, once again you are stuck with a very bad picture. But trust me, whoever wins this yarn will be thrilled when they see how beautiful it really is! I mean, even in the picture it looks pretty - but you should see it in real life.
Once again I'd like to thank all of you who so generously have sent me gifts to add to the raffle. On October 16th, when I draw the names, I'm going to feel like Santa Claus!
I guess that's it for today, but my next few posts should all have actual knitting content as well. And maybe even a trip to a new (to me) yarn store!!